Hertfordshire tractor rampage farmer spared jail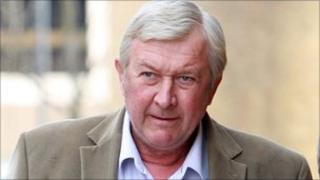 A farmer who went on the rampage with his tractor against youngsters visiting a 'haunted' church near his land in Hertfordshire has been spared jail.
Paul Newton, 60, claimed the tractor that caused damage to three cars had been stolen from his farm at Thundridge on 5 September 2010.
The judge at Luton Crown Court said she was satisfied he was driving.
Newton, the husband of the current Mayor of Hertford, Sally Newton, was given a suspended prison sentence.
The four-month prison sentence was suspended for 12 months.
Newton of Ware Park Farm, Thundridge, was also ordered to pay compensation for the damaged to the cars, personal compensation to the three drivers and their seven passengers and prosecution costs.
The total bill is £11,497.
He was also banned from driving for a year.
Haunted church
The dilapidated church in Cold Christmas Lane, Thundridge, is said to be haunted and has been featured on You Tube.
It attracts visitors, especially groups of young people, at night which has caused friction in the area.
Newton pleaded not guilty to dangerous driving and three charges of damaging property when he appeared at Luton Crown Court but was convicted last month.
On Monday, Judge Barbara Mensah told Newton: "I am satisfied you were driving that tractor that night and you were taking the law into your own hands.
"You were fed up with people continuously coming down that lane, you have been described as a model citizen but on that occasion you simply lost it."
She added: "It was frightening for all those involved, they were terrified and it is a wonder that no one was injured."
Det Insp Stuart Orton, who led the investigation said after the sentence: "It is never acceptable when a member of the public, regardless of their position or motive, decides to take the law into their own hands.
"It is more through luck than judgement that no one was seriously injured during this reckless and dangerous incident."