Sonisphere festival returns to Knebworth House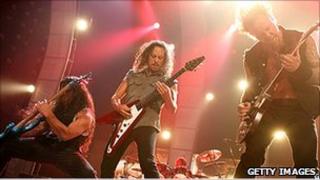 US metal band Metallica will headline a three-day rock and metal festival in Hertfordshire at the weekend.
The band will join Megadeth, Slayer and Anthrax at the Sonisphere festival in the grounds of Knebworth House.
Owner Lady Lytton Cobbold said it was an honour to have the bands performing at the stately home. "They're all classic performers - rock gods," she said.
More than 50,000 people are expected to attend the festival.
"I always enjoy being here when there's an big event taking place - I like the energy," said Lady Lytton Cobbold.
"We've got the historic knowledge of how the park works. We also have a really good relationship with the community, which we value immensely, and the local council, so it's very important for us to stay involved in the planning process."
Slipknot tribute
Scottish rockers Biffy Clyro will top the bill on Saturday night with masked American heavy metal group Slipknot due to close the festival on Sunday night.
Slipknot will be performing their first live UK concert without band member Paul Gray, who died last year. There will be a two-minute silence held across the festival site in memory of the bass player.
"I'm looking forward to seeing Slipknot perform live," said Lady Lytton Cobbold.
"They're a band that I've watched for many years and I find them rather fascinating."
More than 100 major artists, including the Rolling Stones, Pink Floyd, Led Zeppelin, Queen and Robbie Williams have played at Knebworth since its first concert in 1974.
The touring festival visits other countries across Europe including Spain, Sweden and Finland.