Cretan dogs flown to Milton Keynes by holidaymaker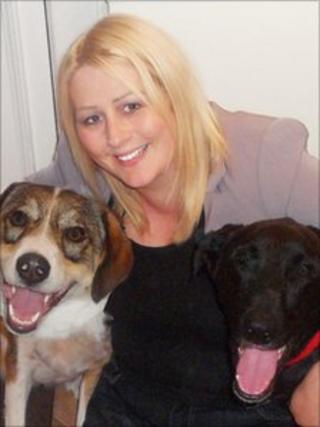 A Milton Keynes dog lover has flown two stray dogs from Crete to her home in Bradwell Village.
Vickki Bradfield-Mullenger found a pack of 15 street dogs at her holiday hotel on the Greek island in September 2009.
Horrified after reading how strays were rounded up and put down, she started working towards taking one home.
She spent spent £1,400 bringing puppy BeaBea to the UK last year and then, after a chance Facebook photo, Murphy followed in June this year.
Ms Bradfield-Mullenger said the street dogs at her hotel were all desperate for food and affection and she took a particular shine to BeaBea: "She was being rejected by her mother and followed me round everywhere.
"I looked into her eyes and could see her soul. I just couldn't leave her," she said.
She was shown a newspaper article by a fellow tourist highlighting the likely fate of the dogs and discovered that 'putting them down' was a "nice way of putting it".
Ms Bradfield-Mullenger spent the rest of her holiday searching the Internet for help before she was eventually contacted on her return to the UK by the charity Friends of the Strays of Greece.
They put her in touch with Barbara Doulyeraki from the Agia Marina Donkey Sanctuary who agreed to take in BeaBea for the seven months quarantine period.
Eventually BeaBea arrived to an emotional reunion at Gatwick Airport in May 2010.
Ms Bradfield-Mullenger was then put in touch with Cretan Animal Protection, a charity which takes in dogs and cats and tries to rehome them.
She recognised Murphy, BeaBea's father, in a picture posted on Facebook and told the charity.
"Cretan Animal Protection took Murphy in and said they would send him to me when they got the funds," she explained.
It costs £500 to fly a dog to the UK but only £200 to fly one to Belgium so when a mystery benefactor donated that sum Murphy was flown to Brussels airport.
Ms Bradfield-Mullenger and some friends then went on a day trip to collect him.
Murphy arrived in Milton Keynes in June 2011 and his new owner has no regrets about the two-year saga.
"I think it's worth it, they are extremely happy and extremely affectionate," she said.
"I lost my Border Collie Misty, who was 17 years old before I went to Crete and I was grieving for her quite a lot. It just felt like Misty sent them to me."