Milton Keynes to continue electric car charging scheme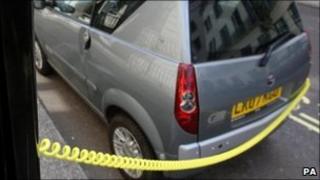 A Buckinghamshire town will continue to install electric car charging points, despite a government decision to scale down the scheme.
Milton Keynes Council will receive £180,000 in funding over three years from the Department for Transport for the plan, which it will match.
A total of 50 charging points have already been installed in public car parks across the town.
"The scheme is still going ahead," confirmed councillor John Bint.
"The government is still committed to the project, but are reducing the money allocated to public charging points because they now think most people will charge their electric car at home or the workplace.
"They estimate the country will need fewer public charging spaces than they originally envisaged."
National network
Hundreds of dedicated charging points were due to be installed across the country as part of the government's £7m Plugged-In Places scheme, a commitment to provide a national recharging network for electric and plug-in vehicles.
The Department for Transport has now revised this strategy after government research showed electric car owners prefer to charge their vehicles at home.
The government will continue to support the existing Plugged-In Places in Milton Keynes, London and the North East, with continued funding for 2011-12 and 2012-13.
There will also be funding for five additional projects in Northern Ireland, Scotland, Greater Manchester, the Midlands and the East of England.