Traffic delays expected ahead of Hertfordshire music festivals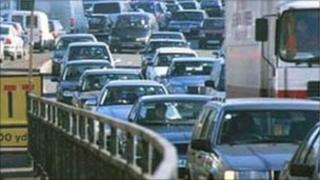 Motorists are being warned to expect delays this weekend as thousands head to Hertfordshire for two major music festivals.
The A1(M) will be partially closed during Sonisphere at Knebworth Park while Hitchin's Rhythms of the World is also expected to draw large numbers.
Hertfordshire Police is asking motorists to take alternative routes where possible.
"We are in for a very busy weekend," said Supt Simon Hawkins.
The southbound off slip at Junction 7 at Knebworth House and the northbound on slip closed at 0600 BST on Thursday and will not reopen until midday on Monday.
People travelling north to the music festival on the A1(M) will be directed to leave the motorway at Junction 7 and take the first left at the roundabout into the Knebworth estate.
People travelling south to Sonisphere will be directed to leave the motorway at Junction 8 and take the A602 towards Hitchin - potentially clashing with Rhythms of the World traffic - before joining the B656 southbound.
Traffic will follow this for approximately six miles before being directed left into the estate.
"We appreciate that this will have some impact on the local community and may cause delays and I would ask residents to please bear with us throughout the weekend and where possible take alternative routes," said Supt Hawkins.
"We have been working with the event organisers and the Highway Authorities for months to make improvements on the road plans from last year and traffic will be monitored during the course of the weekend."