Thames Valley Police uses electric car in Milton Keynes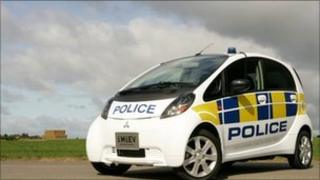 Thames Valley Police says it is the first force in the country to use a full-time electric patrol car.
It has taken delivery of a Mitsubishi i-MiEV which will be used for routine non-emergency duties in and around Milton Keynes city centre.
A grant meant it only paid about £19,000 for the vehicle, which normally costs about £30,000.
Milton Keynes council is taking part in the government's Plugged-In Places scheme, which provided the money.
The city was one of the first places in the UK to install facilities to have electric cars recharged in public.
Cut emissions
Fifty charging points have already been installed in public car parks across the town.
The i-MiEV has a top speed of 81mph and can do about 80 miles before it needs recharging.
Acting Insp Keith Lavery said: "It's going to be for non-response use, so if we have enquiries such as statements which need to be taken it will be used for that sort of thing, it's not going to be used for response driving to 999 calls," he said.
"It's a very comfortable car with a good driving position and because you get the power immediately when you touch the accelerator, the acceleration is actually better than it is for one of our standard panda cars."
The force said the car would help it cut CO2 emissions by 30% by 2015.
"Although we've only got one of these cars at the moment, obviously that's a positive step forward in trying to achieve that goal," Insp Lavery said.
He also revealed that, while at this stage there are no plans to buy any more, it did not mean that this would not change in the future.
"It's certainly the way forward and as technology evolves I'm sure they are going to become cheaper and more affordable for forces and I can't see any reason why Thames Valley Police or any other force wouldn't want to adopt it," he said.
Milton Keynes Council has recently announced that it will continue to install electric car charging points, despite a government decision to scale down the Plugged-In Places scheme.