Lewsey residents create community mural artwork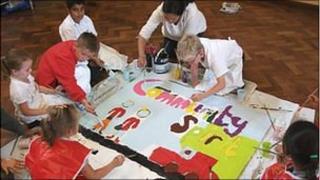 Schoolchildren and residents from a Bedfordshire town have been designing a series of murals to represent respect, tolerance and harmony.
Organisers of the Lewsey Community Mural Project in Luton say the initiative encourages community involvement in the area.
"The project is a great example of how to bring communities together," said Councillor Joan Bailey.
The scheme is part of Luton Borough Council's 'Your Say, Your Way' programme, an initiative which enables local residents to set local priorities and shape the future of their neighbourhoods.
"As well as providing a great opportunity to meet new people, it will help to make the area a much brighter and colourful place.
"I'd strongly encourage everyone to come along and take a look at the finished work - they are all amazing," said Ms Bailey.