Linford Christie 'caused wrong-way crash'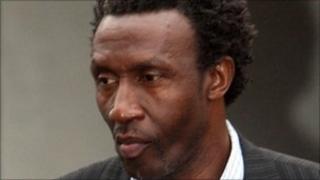 Former Olympic 100m champion Linford Christie crashed head on into a taxi with two newly-weds inside while driving the wrong way up the A413 in Buckinghamshire, a court has heard.
The 51-year-old former athlete, from Twickenham, denies dangerous driving in Chalfont St Peter on 8 May last year.
Mr Christie clambered from his badly-damaged Audi A8 after the collision, Aylesbury Crown Court heard.
Soon after he said: "Oh my God, it's all my fault", the jury was told.
Mr Christie was driving towards Amersham when he found himself on the wrong side of the A413, the court heard.
Eight seconds later, his car - with the personalised number plate 100 RUN - hit a silver Mercedes travelling in the opposite direction.
Dragged from taxi
The taxi was propelled on to a grass verge, while the Audi came to a halt in the middle of the carriageway.
Mr Christie, who had recently moved to the area and was on his way back to his girlfriend's home, was able to walk away from his vehicle but newly married Peter Ashton had to be dragged from the taxi.
Opening the case, prosecutor Nigel Ogborne said Mr Christie, of Sherland Road, Twickenham, west London, ploughed into the taxi some time between 2330 and 2340 BST.
"He drove for some 185m (600ft) and, the prosecution say, he drove on the wrong side of the road.
"He was driving on the opposing carriageway and a car was driving the other way and there was a head-on collision."
The court was told Mr Christie was searching for the turning to his girlfriend's home when he collided with the taxi carrying three passengers - Mr Ashton, his new wife Claire Lloyd-Ashton and her uncle Michael Burt - as well as driver Naeem Akhtar.
Mrs Lloyd-Ashton said: "This male, he said, 'Oh my God, it's all my fault, it's all my fault. He seemed very distressed."
Jurors heard how Mr Christie told a police officer he believed he had been driving at about 30mph (48km/h) that night and the accident happened because he had a "lapse".
The hearing was adjourned until Wednesday.