Whipsnade Zoo welcomes male giraffe to boost breeding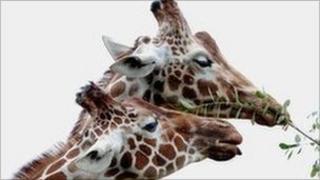 Female giraffes at a Bedfordshire zoo have a new suitor after staff shipped in a male from Norway in a bid to boost their breeding programme.
Keepers at Whipsnade Zoo hope nine-year-old Uno, who is smaller than the average male giraffe, will quickly gain the affection of the females.
Keeper Louise Jackobsen says what Uno lacks in size, he more than makes up for in spirit.
"He's already showing an interest in the females," she said.
Uno will be the zoo's only breeding male and will live alongside female giraffes Savannah, who has already had two calves, Ina and Ijuma.
In the wild, male giraffes would pick up the scent of a fertile female by their hormones.
The average height of a male giraffe is is 17ft (5.3m) while females average a height of 14ft (4.3m).