Linford Christie 'feared death' in wrong-way crash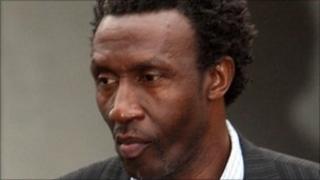 Former Olympic sprint champion Linford Christie thought he was "going to die" when he hit a taxi while driving the wrong way, a court has heard.
The former 100m champion clambered out of his damaged Audi A8 through its window believing it would "blow up".
Mr Christie, 51, denies dangerous driving on the A413 in Buckinghamshire.
Aylesbury Crown Court heard Mr Christie, who had recently been driving in the US, believed the taxi was on the wrong side of the road.
New bride Claire Lloyd-Ashton and her husband Peter Ashton had to be dragged from the taxi when the collision occurred in May 2010.
Split with girlfriend
The jury heard he told a police officer at the scene in Chalfont St Peter: "I saw lights and bang.
"I smelt this funny smell and thought, if I don't get out I'm going to die."
Giving evidence, Mr Christie said he had just split up with his girlfriend of 26 years and was in the process of moving out of their home in Gerrards Cross.
He had set out to buy some milk in his Audi and was heading back to the house along the unlit A413 when the crash happened shortly after 2330 BST.
"I saw the lights on the car in front of me. I thought he was on the wrong side of the road," Mr Christie told the court.
"Then I realised it was me. I tried to turn."
The jury has been sent home for the night and will resume considering its verdict on Thursday.