Linford Christie guilty over wrong-way taxi crash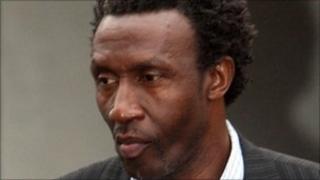 Olympic gold medallist Linford Christie has been found guilty of careless driving after he crashed his car while driving on the wrong side of the road.
Christie, 51, of Twickenham, south-west London, was cleared of the more serious charge of dangerous driving.
Aylesbury Crown Court heard Christie had crashed head-on with a taxi carrying two newlyweds on the A413 in Buckinghamshire on 8 May 2010.
The former sprinter was disqualified from driving for 15 months.
He was also fined £5,000 and ordered to pay £1,000 prosecution costs.
'All my fault'
Christie had told the court he thought he was going to die in the late-night collision at Chalfont St Peter.
He clambered out of the window of his badly-damaged Audi A8 - registration 100 RUN - before he fell to the ground and said: "Oh my God, it's all my fault", the court was told by one of the people in the taxi, newlywed Claire Lloyd-Ashton.
Her husband Peter Ashton had to be dragged from the taxi. Mrs Lloyd-Ashton's uncle, 61-year-old Michael Burt from Cheltenham, was also in the vehicle.
The court heard Christie had recently split with his girlfriend of 26 years and was in the process of moving out of their home when he left the house to buy milk.
He was making his way back along the unlit road between 2330 and 2340 BST when he crashed into the silver Mercedes.
'Going to die'
Jurors heard that after the crash, Christie said: "I saw lights and 'bang'.
"I smelt this funny smell and thought: 'If I don't get out, I'm going to die'."
He acknowledged he had been driving on the wrong side for about 200 yards (182m) and said he believed he had experienced a "lapse", the court heard.
"I saw the lights on the car in front of me. I thought he was on the wrong side of the road," Mr Christie told the court.
"Then I realised it was me. I tried to turn."
Christie had denied one count of dangerous driving.
Ben McQuire, defending, told Judge Sheridan: "This was driving limited to a particular circumstance, at a time when there were difficulties in Mr Christie's personal life."
He said Christie was preparing 20 athletes for next year's Olympics, 10 of whom were real medal hopes, and disqualifying him even for a short time would limit his coaching abilities.
Judge Francis Sheridan had advised the jury to treat the famous defendant as "any other person".