Buckinghamshire to play role in 2012 Olympics training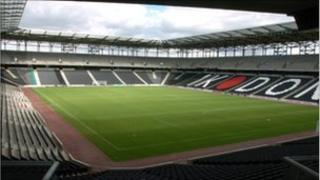 The London 2012 Organising Committee has announced more than 600 sports facilities across the UK to be used as training venues for the 2012 Olympics.
A total of 23 venues across Buckinghamshire have been selected and are preparing to host visiting teams.
The venues will offer athletes from across the world the opportunity to train and acclimatise in their chosen sport ahead of the Games.
"Our county has much to offer," said former Olympian, Adrian Moorhouse.
"Working with Buckinghamshire local authorities and partners, we have a key role in delivering London's legacy. We hope to showcase on the world stage the excellent facilities we have here, as well as the great people," he said.
The venues selected include StadiumMK for football and basketball; the Radcliffe Leisure Complex for basketball, fencing and indoor volleyball; Stantonbury Campus Athletics Stadium for athletics; Tattenhoe Pavilion and Woughton on the Green for hockey; the MK Centre of Cycling Excellence for road cycling and Stoke Mandeville Stadium in Aylesbury, the birthplace of the Paralympics.
'Great opportunity'
A spokesperson for Milton Keynes Dons said: "The club is delighted that StadiumMK has been selected, along with other sporting venues in Milton Keynes, to form one of the elite training camps for the 2012 London Olympics.
"Since the confirmation that the Games would be hosted on these shores, we have endeavoured, along with our sporting partners in Milton Keynes, to secure the city's place in what will be the greatest Olympics of all time."
London 2012 chairman Sebastian Coe says the project is a great opportunity for towns throughout the UK to get involved in the Games.
"The process we have been through shows a great spread of high quality facilities throughout the UK that can be used by elite level athletes.
'We said that we wanted the London Games to be for athletes, and the facilities selected will really help overseas athletes prepare well. It also provides a great opportunity for towns throughout the UK to get involved in our plans," he said.