The road to 2012 with Gail Emms and Luke Ashmead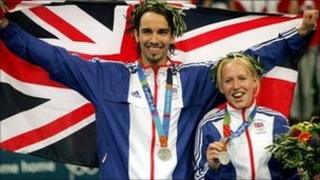 In the lead up to the 2012 Olympics, BBC Three Counties is bringing its listeners a brand new sports programme.
Olympic silver medallist Gail Emms and sports presenter Luke Ashmead will be talking to London 2012 hopefuls from across the three counties.
The programme will follow the athletes as they experience the joy and pain of going for gold.
"2012 will be the biggest sporting spectacle this country has ever seen," said Miss Emms.
"We'll be visiting local sports clubs, groups and associations to reflect all the Olympic sports, so when you are listening to the Olympics on the radio or watching on TV or online you'll know all about the likes of judo, boxing, synchronised swimming or the javelin for instance."
You can listen to the Olympic programme on BBC Three Counties Radio, every Monday at 18:00 BST.