Kite-flying death man Marcus Garwood had brain injury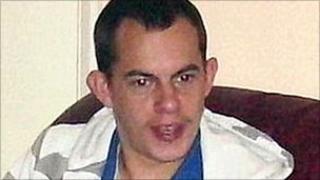 A man who was fatally hurt after falling 50ft (15m) from the air while flying a kite suffered a brain injury, an inquest has been told.
Marcus Garwood, 26, of Hillcroft, Dunstable, was declared dead at the scene after crashing to the ground in Dunstable, Bedfordshire, on Sunday.
The inquest in Bedford heard he died from multiple injuries including a ruptured artery and a brain injury.
The hearing was adjourned to a later date.
Emergency crews, including an air ambulance, were called to Dunstable Downs, where the accident happened, at 13:25 BST on Sunday.
Mr Garwood was flying a kite which had a 20ft (6m) wingspan when he was caught by a gust of wind and carried into the air.
He plunged to the ground and suffered multiple injuries.
Dunstable Downs has a 200ft (61m) hill that is popular with kite enthusiasts as prevailing winds hit the ridge and are forced up at speed.