Batman's Dark Knight Rises helped by Bedfordshire scrap dealer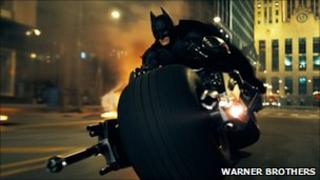 A Bedfordshire scrap metal company has played an unexpected role in the production of the latest Batman film.
Simply Recycling Solutions in Bedford provided props for a scene involving a Siberian prisoner of war camp.
The Dark Knight Rises, starring actor Christian Bale, is currently being filmed at Cardington Hangers in Bedfordshire.
"It's going to be good to see my scrap up on the silver screen," said owner Jon O'Brien.
The company, which has sites in Bedford, Luton and Northampton was discovered by a member of the film's production team.
"The gentleman just drove past, saw our sign and came in and asked for scrap to help build a part of their set.
"Luckily, we'd just had a customer come in with 25 sheets of old, rusty corrugated roofing with lumps of grass growing out of it - he took one look at it and was literally jumping for joy," said Mr O'Brien.
The production company, Warner Bros, has subsequently returned to the scrap dealer in its search for even more props.
"He just stops by when he's asked to source something for the film," said Mr O'Brien.
The Dark Knight Rises is due for release in July 2012.
It is director Christopher Nolan's third Batman film, the previous features being Batman Begins in 2005, and 2008's The Dark Knight.