St Albans taxi drivers protest against deregulation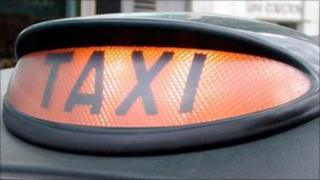 Taxi drivers unhappy about the deregulation of the trade have staged a protest in St Albans for the second time in 10 days.
The drivers claim there are too many drivers trying to compete for fares.
Mohammed Khan from the St Albans and Harpenden Taxi Association said there had been a 100% increase in taxis since deregulation in 1999.
He said his earnings had fallen by 30% in two years. The drivers refused to pick up passengers for four hours.
"The minimum we have to work is 12 hours a day, six days a week [to make a living wage]," Mr Khan said.
Mr Khan, who has been a taxi driver for 22 years, apologised to the general public for the "nuisance" but said that they had to highlight their dissatisfaction to the council.
"St Albans is a very small and compact town and can only cater for so many cabs and I think we surpassed that a long time ago," he explained.
Call for survey
The taxi trade in St Albans was regulated in 1995 and the district council restricted the number of vehicle licences issued until 1999 when there were 127 hackney carriages.
However, the policy was considered too restrictive, the limit was removed and there are currently 259 licensed taxis.
On 7 July, drivers in St Albans again asked the licensing committee to consider introducing a regulation on the number of licences granted but failed in their bid.
"I would like [the council] to take a serious look at our plight," added Mr Khan.
"I think they could do a survey of demand and find out if there is a need there or not."
Councillor Gordon Myland, chairman of the licensing and regulatory committee at St Albans District Council, said: "With the number of taxi drivers that there are in St Albans, if they weren't making money, they wouldn't be coming into St Albans to trade."
He revealed that in both 2007 and 2009, reports requesting regulation of licences were considered by the committee and on both occasions the decision was made not to regulate, based on a report by the Office of Fair Trading and a reply from the Department for Transport.
"I don't think that a capped system is correct," Mr Myland said.
"Besides, over the past two years there have only been six new plates issued."