Lister Hospital gets go-ahead for £72m rebuild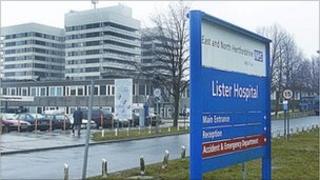 A £72m revamp of Stevenage's Lister Hospital has been given the go ahead.
The expansion will see it become the main emergency and in-patient hospital for east and north Hertfordshire.
It is the fourth stage in its rebuild and will include a new casualty department, operating theatre and extra beds.
The announcement was made by the Health Secretary Andrew Lansley who said it was "great news for patients, staff, and the community".
The move will be the final part of the redevelopment of the hospital and will lead to all acute services for that area on one site.
The latest scheme includes a new extension to the emergency department containing an eight-bed clinical decision unit, a CT scanner, an upgraded paediatric area and a 24-hour urgent care centre.
There will also be a new ward block containing 14 assessment trolley spaces and 62 beds for coronary care, a medical high dependency unit and medical assessment plus a new theatre and endoscopy block.
In addition, the refurbishment of the hospital tower building will provide 51 additional beds and the critical care unit will be increased from 12 to 20 beds.
Mr Lansley said: "This funding will ensure that the trust has modern buildings that are fit for purpose and will help the trust deliver even better care in a more efficient way.
"This is the fourth and final phase of the reconfiguration of services in Hertfordshire and it will help deliver high quality and sustainable care for patients for many years to come."