Thames Valley Police Twitter feed on High Wycombe car crime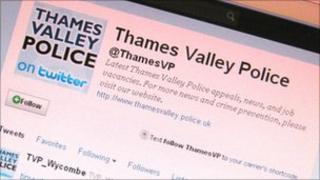 Thames Valley Police will use Twitter to report all car crime for a one-week period.
The initiative, which begins on 9 August, is intended to raise awareness of vehicle crime in High Wycombe.
They will also tweet crime prevention messages, informing residents how to best protect their vehicles.
Ch Insp Colin Seaton said it was the first time the force had used social media to report crimes.
He said: "We have had a recent rise in items being stolen from parked cars, most of which could have been easily prevented.
"I hope by releasing this information to the public we can not only create an awareness of how frequently this type of crime happens, but also get intelligence back from the community if they see any suspicious behaviour or know who is responsible."
Figures released by Thames Valley Police show that since April, there have been 398 reported instances of theft from motor vehicles in High Wycombe, 64 more than for the same period last year.