Paul Mondon died from 'invisible injury' in Dunstable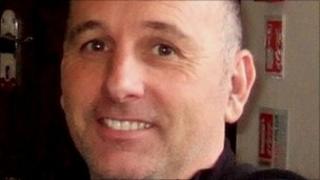 A man died from an invisible injury in a "random piece of late night drunken rowdiness" in Bedfordshire, a jury has heard.
Paul Mondon, 47, lay dying in the street in Dunstable, hours after meeting school friends for a reunion in October 2010, Luton Crown Court heard.
He was shoulder barged in the street, which led to a confrontation in which a punch tore an artery in his neck.
Marc Allen, 24, of High Street, Leagrave, Beds, denies manslaughter.
He and Gavin Langford, 27, of Victoria Street, Dunstable, also deny two charges of affray relating to events in the Old Sugar Loaf pub early on 9 October and shortly afterwards in Dunstable High Street, during which Mr Mondon died.
'Devastating injury'
The court heard the father of three, of Flitton, was walking along High Street South when he was deliberately shoulder barged by two young men "spoiling for a fight", prosecutor Ben Grumpet said.
CCTV footage showed there was a confrontation in which Mr Mondon can be seen to throw the first punch but it did little or no damage, he added.
Mr Allen's return punch caught Mr Mondon on the angle of his jaw and neck and knocked him to the ground.
"Paul Mondon got up after that but not for long," said Mr Grumpet.
"We say Allen's violence had caused him an invisible but devastating injury.
"His neck had twisted and an artery had torn causing bleeding around the brain and within seconds he collapsed again and died shortly after."
Congratulatory gestures
The jury heard Mr Langford admitted drinking 14 pints of beer that night, but Mr Allen refused to allow police to take blood samples after his arrest.
He had been seen shadow boxing in a pub car park and he and Mr Langford gave each other congratulatory gestures when they left Mr Mondon unconscious.
When arrested shortly afterwards, Mr Allen resisted and told an officer he would "kick off", the court heard.
Both men declined to answer questions in interview.
The trial continues.