Two men jailed for raid at Theo Walcott's family home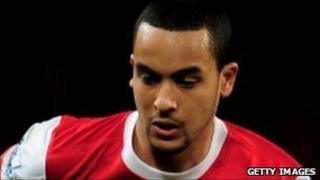 Two men have been jailed for burgling the family home of Arsenal and England footballer Theo Walcott as he played in a Champions League game.
Kevin Wood, 32, of Hemel Hempstead, and Ryan Lee, 23, of Amersham, were each sentenced to 3 years and nine months.
Walcott's parents and brother were watching Arsenal's 2-1 win over Barcelona when their Hertfordshire home was ransacked on 16 February.
Wood and Lee had denied stealing £40,000 worth of property.
'Huge upset'
The court had heard how after the match Theo Walcott's parents Donald and Lynn and his older brother Ashley returned to the house in Hemel Hempstead to find it had been ransacked.
Judge Michael Baker QC told Lee and Wood: "You two, most likely with others, targeted the Walcott's home and planned and executed a burglary on it after dark."
He said the damage to the house that night had caused "huge upset" to the family who felt their home had been violated.
Judge Baker said: "Planned night-time burglaries of people's homes are serious offences."
Lee of Sandycroft Road and Wood of Shrubhill Road were found guilty by a jury on Tuesday of the burglary.
The court had heard how Lee and Wood broke in and took a lap-top computer, watches and jewellery.
Never recovered
They also found the keys to the VW Golf car which was driven by Ashley and drove off in it.
But it only had enough petrol to travel 10 miles and the pair were caught on CCTV filling up a petrol can.
Early the next morning Wood was captured again on CCTV filling the car with petrol at the same garage in Amersham.
Wood had also left behind a print of the sole of one of his Nike trainers on the conservatory window sill.
Prosecuting, Sally Mealing-McLeod said the car worth £25,000 and the £15,000 worth of property had never been recovered.
Wood, who has a young daughter, and Lee each had 25 previous convictions.