Luton Co-Op shooting: man guilty of attempted murder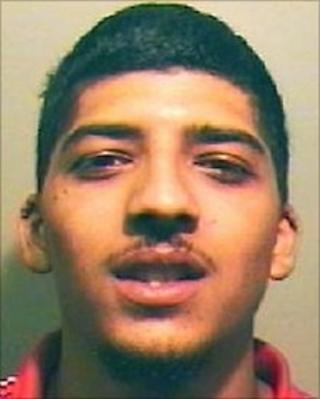 A man who shattered the glass door of a Co-Op in Luton in a drive-by shooting has been convicted of attempted murder.
A cleaner moved from the door seconds before 22-year-old Omar Richards fired the shot intended for Drizz Jones, 20, Luton Crown Court had heard.
Mr Jones was walking towards the shop on Wigmore Lane on 10 May last year when Richards opened fire.
Richards, of Stronnell Lane, Luton, had denied attempted murder. He was warned he faced a substantial prison sentence.
He admitted having a firearm and ammunition in a public place and possessing the firearm with intent to cause fear of violence.
The court heard Richards was in the back of a car being driven by his female neighbour, whose friend and teenage daughter were passengers.
'Done the dirty'
He told the jury he had fired the gun but claimed he thought there were only blank bullets inside.
A man he delivered cash and drugs for had given him the loaded gun because Mr Jones had "done the dirty on him", he said.
"He told me to stop acting like a pussy and there were only blanks in the gun," Richards said.
"He said all I had to do was pull the trigger... I had no reason to doubt him."
Prosecutor Alan Blake said the bullet narrowly missed Mr Jones, went through the door and "mercifully missed a cleaner who had been cleaning behind the door just seconds before".
The flattened bullet was found among boxes of cereal inside the shop.
Richards will be sentenced next month.