Harold Abrahams: Blue plaque call for 'Chariots of Fire' Olympian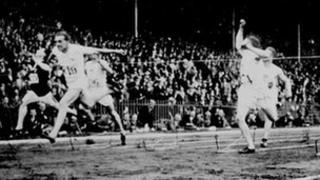 A campaign has been launched in Bedfordshire to erect a blue plaque at the birthplace of a former Olympian.
Harold Abrahams, who was immortalised in the 1981 film Chariots of Fire, was born in Rutland Road in Bedford.
The house was knocked down in 1934, but its original wall still exists. It was replaced by a terrace of four houses.
Campaign organiser Dennis Johnson says it would be fitting for a plaque to be unveiled in 2012.
"It could be on the day the Olympic torch comes to Bedford by one of our Olympic athletes from the recent past, or even one who is competing at the 2012 London Games," he said.
Harold Abrahams won the 100 metres from Jackson Scholz of the US and Arthur Porritt of New Zealand in a time of 10.6 seconds at the 1924 Olympic Games in Paris.
A broken leg ended his athletic career the following year. He went on to become a sports journalist, broadcaster and president of the Amateur Athletic Association.
Mr Abrahams died in 1978 and is buried at Great Amwell in Hertfordshire.