QEII Hospital plans go before Welwyn Hatfield council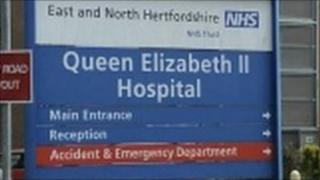 Plans for the new Queen Elizabeth II (QEII) Hospital will go before Welwyn Hatfield Borough Council later.
The outline application by NHS Hertfordshire will be considered by the planning committee.
The new facility in Welwyn Garden City would replace the old QEII on the same site when services are centralised at the Lister Hospital in Stevenage.
The plan is to demolish the hospital, replace it with a smaller unit by 2014 and build 202 homes on the site.
At a public meeting in July, hosted by the council, managers from NHS Hertfordshire revealed that the new hospital would include a local A&E facility, a general outpatients, GP services, MRI, X-rays and ultrasound, a unit to support elderly people, day treatment unit, ante and post-natal services, children's centre and breast clinic.
Long journey
Those against the plans say people would face a long journey to the Lister Hospital, 14 miles away, for maternity, A&E and other services they expect to have locally.
Health Secretary Andrew Lansley visited the Lister Hospital on 4 August to give government approval for the final phase of development there and said it was "great news for patients, staff, and the community".
On completion it will become the main emergency and in-patient hospital for east and north Hertfordshire, with all acute services for that area on one site by the end of 2013.
Welwyn Hatfield MP, the Rt Hon Grant Shapps, said: "Personally, I'd prefer to re-open the entire debate about whether there should only be one major hospital in this part of Hertfordshire.
"But it's a fact that hundreds of millions of pounds have already been spent at the Lister so what we need to do now is get on with the job of building the best possible new QEII Hospital in Welwyn Hatfield."
The planning committee will meet in the council chamber at Campus West, Welwyn Garden City, on at 19:30 BST.