QEII hospital plans deferred by council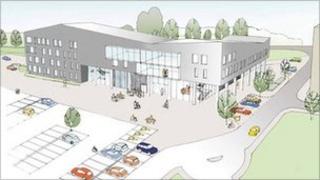 Plans for the new Queen Elizabeth II (QEII) hospital have been deferred by Welwyn Hatfield Borough Council.
The application by NHS Hertfordshire was considered by the Planning Control Committee on 11 August.
The decision was deferred to allow NHS Hertfordshire to clarify how additional car parking spaces could be provided in the future.
The committee asked that a legal agreement be put in place to allow more spaces to be added later if needed.
A council statement said: "It is essential that the legal agreement for the car park is in place before a decision on the application can be taken."
The plans for the hospital would then be reconsidered by the committee within 3 months.
Jacqui Bunce, programme director for NHS Hertfordshire said: "During our many discussions with the council we had already agreed the principle of incorporating flexibility into the car parking arrangements and this will now be put into a formal agreement before our plans are resubmitted.
"We will be pleased to bring back the revised proposals, including the car park plans to a future meeting of the committee and very much look forward to a positive outcome."
Plans for the new QEII would see the old hospital replaced by a smaller unit by 2014 and 202 homes built on the site.
The new facility in Welwyn Garden City will replace the old QEII on the same site when services are centralised at the Lister Hospital in Stevenage.