BBC worker died 27 years after inhaling mustard gas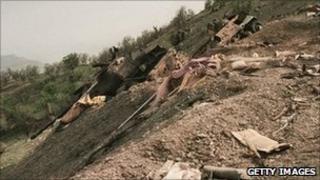 A sound recordist for the BBC died 27 years after inhaling mustard gas while covering the war between Iran and Iraq, an inquest has heard.
Cyril Benford, High Wycombe, had been with colleagues in 1984 when an Iranian soldier had opened a shell releasing the gas.
He died on 16 January 2011 and changes in his lungs were consistent with mustard gas damage.
Coroner Richard Hulett recorded a verdict of industrial disease.
'No asbestos'
He said that verdict was given as Mr Benford was working for the BBC at the time of his death.
The inquest, held at Wycombe Law Courts, heard that Mr Benford, who had worked as a sound recordist and cameraman for the BBC for 38 years, had gone to Iran in 1984 for Newsnight.
As well as being near the shell that released the gas, Mr Benford had also sat next to an Iranian soldier on a plane journey who was holding a jar of mustard gas, stoppered with cotton wool, Mr Hulett confirmed.
The inquest, which was held on Wednesday, was told Mr Benford had seen an RAF physician who had examined his lungs and noted the gas agent damage.
Home Office pathologist Dr Ashley Fegan-Earl told the inquest Mr Benford had died from respiratory failure from scarring of the lungs.
He said there was no sign of asbestos damage.
A BBC spokeswoman confirmed legal proceedings were ongoing with Mr Benford's family.
She said: "We note the findings of the inquest and once again extend our condolences to Mr Benford's widow and family."