Lorry crashes into Houghton Regis pub leaving six hurt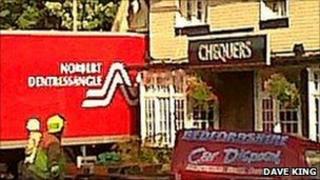 Six people escaped with minor injuries when a lorry crashed into a pub in Bedfordshire.
Emergency services were called after the 16 tonne vehicle struck the Chequers pub in Houghton Regis at about 17:15 BST.
Police said it was "amazing" nobody was seriously injured as the pub, in East Street, was open at the time.
Fire crews were able to speak to the driver while he was being cut free, before he was taken to hospital.
He was taken to Addenbrooke's Hospital in Cambridge by air ambulance as a precautionary measure.
It is believed the lorry struck several cars before crashing into wall of the single storey extension of the pub.
Gas leak
Three people were described as walking wounded and two others had neck and back pains.
All five were later taken to Luton and Dunstable Hospital for treatment.
A spokesperson for the East of England Ambulance Service said: "Given the potential of the situation we are thankful that the consequences were not more serious."
A gas leak that was caused in the crash was dealt with and structural engineers are due to examine the building.