Marc Allen cleared of manslaughter of Paul Mondon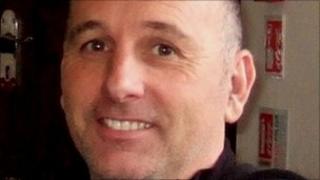 A man has been cleared of killing a father of three with a fatal punch on a night out in Bedfordshire, but jailed for 21 months for affray.
Marc Allen, 24, of High Street, Leagrave, has been acquitted of the manslaughter of Paul Mondon in Dunstable on 9 October last year.
A jury at Luton Crown Court found him guilty of two counts of affray, one of which related to the fatal incident.
Mr Mondon was punched in the head, which tore an artery in his neck.
Allen had stood trial, denying all three charges, after he was formally cleared in May of Mr Mondon's murder.
'Spoiling for fight'
The affray charges related to an incident at the Sugar Loaf pub, Dunstable, on the same night out and later in High Street South, when Mr Mondon, 47, of Flitton, was punched.
Mr Mondon was on a night out with friends when he was "deliberately" shoulder barged by two young men "spoiling for a fight", prosecutor Ben Grumpet said.
CCTV footage showed there was a confrontation in which Mr Mondon could be seen to throw the first punch but it did little or no damage, he added.
Allen's return punch caught Mr Mondon on the angle of his jaw and neck and knocked him to the ground. Mr Mondon was also kicked.
Allen did not give evidence to the jury.
Judge Michael Baker QC said the jury could not reject the proposition that Allen's first blow was in self defence.
'Decent man'
He said they could be sure that Allen's kick amounted to affray. No evidence was put forward to suggest it contributed to Mr Mondon's death.
Judge Baker told Allen: "This night you were drunk and almost certainly affected by drugs and it seems to me you are free from remorse."
Speaking of Mr Mondon, he said: "He was plainly a decent man. It may be he acted a little hot headed that night but no rational person could suggest he deserved what he got."
Gavin Langford, 27, of Victoria Street, Dunstable, had denied and was cleared of the two affray offences.