Stevenage new town marks 60th anniversary of first homes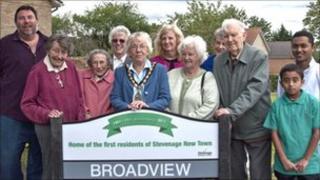 England's first new town is celebrating the 60th anniversary of the construction of its first homes.
Stevenage was designated a new town on 11 November 1946 under that year's New Towns Act.
The Act allowed the government to designate areas for development to relieve overcrowding in London and provide homes for servicemen returning from the war and their families.
The houses in the new Hertfordshire town were completed in August 1951.
Bob Sulzbachs, whose family was among the first to move into the new homes in Broadview, said it was a good place to grow up.
"There were lots of children around because all the families arrived around the same time," he said.
"We didn't have a television in those days, so we would all play in the streets and on the building sites."
Visionary planning
The decision to designate Stevenage as the first new town provoked fierce opposition from residents of the old town.
After a public inquiry, and discussion in the House of Lords, the development corporation was established in July 1947, and plans for the new Stevenage were drawn up.
Council leader Sharon Taylor said: "It was very visionary planning for its time.
"The six original neighbourhoods of Stevenage were designed to have all their own sustainable community facilities, so they all had medical centres, shops, schools, community centres, as well as plenty of green open spaces, which made them a very desirable place to live.
"The vision of Stevenage new town became a landmark influence on the way that modern towns have been designed, so this anniversary is a big milestone for the town and its residents."
To mark the anniversary, a commemorative street sign was unveiled by the mayor of Stevenage councillor Carol Latif.