New Lister hospital car park set to end parking problems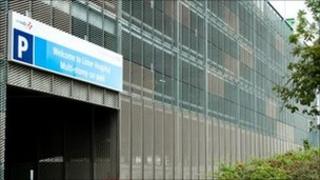 A new car park at Stevenage's Lister Hospital will bring an end to its parking problems, claim East and North Hertfordshire NHS Trust managers.
The £7.9m multi-storey facility which opened on 2 September, will add more than 500 spaces to the overall site.
Another important change is the pay-on-exit system, which means that people will only pay for the time they use.
Trust chief executive Nick Carver is confident people will be "very pleased with this important new development".
In developing the new car park, the trust said it had worked closely with patient groups to resolve such issues as an unpopular pay and display system where people had to guess how long they would need and too few blue badge bays.
Peter Gibson, head of public affairs for the East and North Hertfordshire Trust, said people would now only "pay for the time they use only which is a big plus".
The new five-floor car park has 667 spaces on 11 levels and 63 designated bays for blue badge holders.
The building also the latest green credentials, with its own silent wind turbines that provide 10% of the car park's electricity needs, solar panels and recharging points for electric vehicles.
Charges 'not increasing'
The cost of building the facility has been met by Vinci Park, which will get its money back over the next 30 years from parking charges.
"You won't find that parking charges are suddenly doubling to pay off Vinci's debts," said Mr Gibson.
"Overall the level of income we expect to get will be exactly the same as what we're getting now.
"People often think of hospital [car parks] as some sort of money-grabbing scheme. For us it's not, we just need to make sure it covers its costs and if there is a surplus then we'll plough that back into patient services."
He added: "It costs us about a £1m a year just to maintain and run the car parks.
"If we didn't charge then that would have to come from somewhere. There is no additional money in the system so that would have to come from our budgets for effectively patient care."
Enough spaces
The car park's creation represents the third phase of the trust's multi-million redevelopment of the Lister into the main acute in-patient and emergency hospital for east and north Hertfordshire, as well as parts of Bedfordshire.
Mr Gibson is confident they have sufficient parking to cope with the influx as the hospital expands.
"The vast majority of people who come to hospital in the first place do so for out-patient appointments and most of that will still carry on at the QEII [hospital in Welwyn Garden City] even after the remaining changes over the next few years."