Baby elephant expected at Woburn Safari Park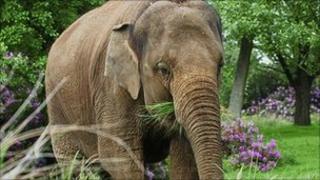 Woburn Safari Park in Bedfordshire is celebrating the news of a new arrival next year.
Damini, a 17-year-old Asian elephant at the park is currently 14 months into her pregnancy.
An elephant pregnancy can last for up to 22 months, giving the mother-to-be a due date of April 2012.
"We are thrilled, but also aware that we still have a long way to go," said elephant keeper Lynne Thomson.
'Close eye'
Damini is receiving special care from her keepers including a balanced diet, which means eating about 70kg of food a day.
This has to be monitored to make sure she does not put on too much weight during her pregnancy and that the growing baby receives the best nutrition.
In addition, the elephant keepers are ensuring that Damini is exercised regularly with a brisk walk around the park and a swim.
Ms Thomson added: "This is very encouraging news for the elephants at Woburn Safari Park, and we are absolutely delighted.
"Damini is a year or two older than she would be in the wild for her first pregnancy, so we are keeping an extra close eye on her."
The father, 17-year-old Asian elephant Raja, also lives at the park.