St Albans' Maltings Theatre to be run by volunteers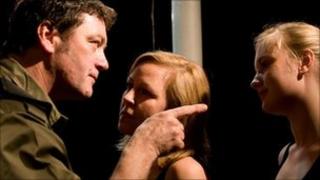 A St Albans theatre company is to run the city's Maltings Arts Theatre in what is being called an example of the Big Society.
The volunteer-run group OVO will deliver a programme for an initial six-month period in partnership with St Albans City and District Council.
The future of the theatre has been in doubt with the previous administration planning to turn it into a cinema.
This pilot scheme will help the new council make a decision about whether it should remain as a live performance venue.
Established in 2002, OVO's aim is to produce "innovative, imaginative and inspiring theatre" which is performed in their current 40-seater venue in Pudding Lane.
Company members had opposed the previous Liberal Democrat-controlled council's plan to turn the building into a cinema.
OVO's Artistic Director Adam Nichols said: "We felt strongly that it should remain as a live performance venue.
"After the election when the Conservatives took over we approached them and said we had been running a small venue in St Albans but were running out of space and would be interested in running it. They said yes."
'Professional standard'
OVO will now run a programme from September until next March while the council considers the venue's longer term future.
The Maltings can accommodate around 140 in a theatre style and, as well as its presenting all its own work there, OVO will manage a consortium of local artists. The venue will also be available for hire.
"We are trying to provide a platform for local people to perform but we are also aiming for a professional standard so will exercise discretion about who performs so that audiences get the best," said Mr Nichols.
"There will be a strong focus on theatre but there will also be music and going forwards we hope to have dance and comedy and maybe even some burlesque.
"Small scale venues have struggled in recent years and St Albans has struggled because although it's a very artsy town, it's very close to London.
"This will be a Big Society model, there's a very good quality arts sector in St Albans, with a great set of local organisations and it seems only right to get them involved with running it."
Self-financing
Mr Nichols believes that in the long term this model can be self-financing.
The council will provide a small subsidy to get it started but most of the money will come from ticket sales, bar takings and external lets.
There will be a part-time manager but the majority of the activities will be delivered by volunteers.
"I believe it's the way forward in this sector," he said.
"For smaller venues like this, a strong voluntary community input is the only viable model for the way that the arts sector is going at the moment.
"We would love to prove that it's a good model and turn it into a longer term prospect."
The council is currently looking at how to make the best use of the Maltings Art Theatre and is inviting residents to put forward ideas but this arrangement will allow it to get further audience and income figures to help its decision making.
Mike Wakely, Portfolio Holder for Sports and Leisure at St Albans City and District Council, said: "While we consider the options, the new Cabinet are happy to test a model for keeping live theatre at the Maltings Arts Theatre."