Catalytic converters targeted for scrap in Hertfordshire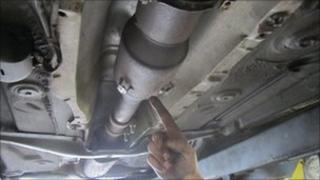 Drivers in Hertfordshire are being warned to be vigilant after a series of catalytic converter thefts.
Since January 2011, there have been 272 thefts reported in the county.
Hertfordshire Police said the devices, which can cost more than £1,000 to replace, were being targeted because of their scrap value.
"Larger 4x4 vehicles and vans tend to be most at risk as the catalytic converters are more accessible", said Det Insp Paul Boran.
"We urge the public to be extra vigilant and inform us if they see anyone acting suspiciously around a vehicle, " he added.
Catalytic converters use precious metals platinum, palladium and rhodium to remove toxins.