Elstree Studios honoured with train naming ceremony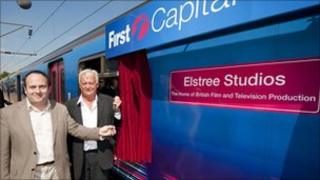 A train bearing the name of Elstree Studios has been unveiled by First Capital Connect.
The ceremony marks the completion of a new film-themed interchange at Elstree.
Hollywood-style stars in the station pavement celebrate the film and television heritage of the Hertfordshire town.
"Over the years, the railway has brought thousands of audience members to Elstree," said the studio's director Roger Morris.
"People regularly travel here by train to watch the filming of television shows like Dancing on Ice, Big Brother and Who Wants To Be A Millionaire?"
The studios have also played a key role in the filming and production of films such as Star Wars, Indiana Jones and The King's Speech.
"Last year was the 40th anniversary of The Railway Children, which was filmed at Elstree, and we're very proud to still be involved in what is clearly still the age of the train," said Mr Morris.
Improvements to the transport interchange began in September 2010 and were completed in March.
In additon to the tributes to the town's TV and film heritage, new bus shelters and waiting areas, safer walking and cycling routes and additional cycle parking and disabled parking spaces were also provided.
The train will be used on services throughout Surrey, Hertfordshire, Bedfordshire, Sussex and Kent.