Bedfordshire police officer in court over Luton crash deaths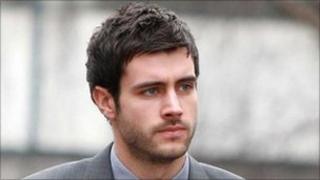 A police officer answering a 999 call crashed his patrol car, killing two pedestrians, a court has heard.
PC Kerry Smith, 25, was responding to a report of three men armed with a gun in Luton, Bedfordshire, when he crashed into a Toyota Celica that was turning right off a main road in the town.
Algerians Reda Lecheheb, 35, and Sidali Melal, 27, died at the scene, St Albans Crown Court was told.
PC Smith denies causing death by dangerous driving on June 4 last year.
The court head his Vauxhall Astra crashed through garden walls before smashing into the front of a terraced house.
Prosecutor Ann Evans said the crash happened at about 23:50 BST.
She said four friends were walking home through the centre of Luton after a meal in a restaurant.
'Lost control'
"Witnesses around the group noticed a police car coming up behind the group on Leagrave Road," she said.
"The police car was travelling fast, the blue lights flashing. Also in the road was a silver Celica preparing to turn right into the junction at Holland Road, which the friends had just passed.
"As the Celica slowly turned into Holland Road the police car collided with the Celica, lost control and veered into the pavement where the friends were walking and killed two of them."
She said that as an authorised standard response driver, PC Smith was allowed to respond to a blue-light incident by exceeding the speed limit if it was safe.
The jury saw CCTV footage of the police car travelling along Dunstable Road at speed prior to the crash.
'Too fast'
Investigations showed the Toyota had been travelling at 13mph (20km/h) before the crash, while the police car was travelling at about 56mph (90km/h) on the 30mph (48km/h) road at the time of impact.
Mrs Evans said calculations showed PC Smith must have had his foot flat on the accelerator all the way along Leagrave Road.
"This scenario suggests that PC Smith was travelling too fast into a developing hazard - the Celica in front of him turning right," she said.
In an interview with the Independent Police Complaints Commission, PC Smith said he was extremely sorry two people had died.
But he said he did not think he drove dangerously or carelessly, and was sure the Toyota driver had seen him before he committed to overtake.
The case continues.