Driver hit by PC's car in Luton fatal crash in court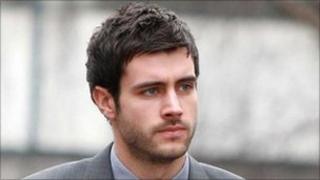 A driver whose car was hit by a police vehicle that went on to mount a pavement and kill two pedestrians has refused to say if he was on a mobile phone at the time of the impact.
PC Kerry Smith was responding to a 999 call when he hit a Toyota Celica in Luton, St Albans Crown Court heard.
PC Smith, 25, denies causing death by dangerous driving on 4 June last year.
The Toyota's driver Nizam Uddin said he would not answer questions that might lead to him being prosecuted.
Reda Lecheheb, 35, and Sidali Melal, 27, both Algerian nationals, died at the scene, jurors heard.
The court was told that PC Smith and a colleague were speeding along Leagrave Road at about 55mph in a 30mph zone.
'Checked mirror'
The blue lights on their car were flashing and the siren was sounding as they responded to a report of three men armed with a gun.
The crash happened at about 23:50 BST on 4 June 2010 as Mr Uddin went to turn right into Holland Road to go to his brother's house.
Chef Mr Uddin, who was aided by a Bengali interpreter, told the court: "I slowed down the car and looked in the right mirror.
"I checked the front and positioned myself to turn right. My car was hit at the front.
"When I checked my mirror there wasn't any vehicle behind me. When I was hit that was the first time I realised there was a car."
He said his mobile phone was in his pocket, but when asked if he received a call on his journey he replied: "I don't want to say anything about the phone this time.
"I used the phone after the accident. I am not going to say anything about the mobile phone before the accident."
Defence barrister Mark Fennells said: "You know you did not look before you turned."
Mr Uddin said: "I already said I looked and I turned right."
The trial continues.