Letchworth hosts George Orwell festival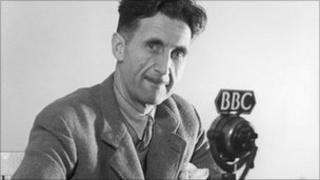 A Hertfordshire town where George Orwell spent part of his life is hosting a festival to celebrate his work.
Letchworth is hosting a series of events until 18 September including stage adaptations of his stories.
The author spent part of his life in Wallington, a village near the town.
Richard Hallmark, festival committee chairman, said he hoped the event would be "accessible" and "involve people of all ages and interests".
The festival includes a talk by John Bird, founder and editor of the homelessness street newspaper The Big Issue, and Guardian newspaper cartoonist Steve Bell.
Orwell had a strong association with the area, leasing a cottage in the village of Wallington between 1936 and 1947.
Orwell, who died in 1950, is best known for his novels 1984 and Animal Farm.
But he was also a pioneering political journalist and cultural critic, and worked for the BBC during World War II producing talks and drama for the overseas radio service.
The festival is being organised by a team of volunteers from around Hertfordshire and, as well as stage performances and debates, will include art exhibitions and book fairs.
Mr Hallmark added: "Orwell had many passions outside of literature and politics - from country living and the natural world, to goat keeping, English cooking, real ale, and seaside postcards - all of which he wrote about.
"We want the festival to reflect the full range of his interests."
More information about the festival is available on its website.