Police officer cleared in Luton fatal collision case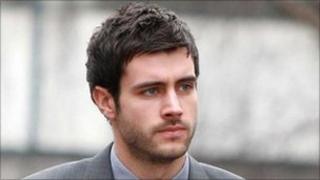 A policeman accused of causing death by dangerous driving has been cleared by a jury of all charges.
PC Kerry Smith, 25, was on an emergency call when his Vauxhall Astra collided with a Toyota Celica and veered off the road in Luton on 4 June last year.
Reda Lecheheb and Sidali Melal, who were walking on the pavement, were killed, St Albans Crown Court heard.
The driver of the Celica, Nazim Uddin, had refused to say if he was using a mobile phone at the time of the crash.
The jury of seven men and five women also cleared PC Smith of alternative charges of causing death by careless driving, dangerous driving and careless driving.
They had been considering their verdicts for three-and-a-half hours.
PC Smith put his head in his hands and friends and family in the public gallery burst into tears when the verdicts were delivered.
Blue lights
The court heard how PC Smith and a colleague were responding to a report of three men with a gun at the time of the collision.
PC Smith said that with blue lights flashing and siren sounding, he drove up Leagrave Road in the town to answer the 999 call.
He overtook a Vauxhall Astra that had pulled over before approaching Mr Uddin's Celica.
PC Smith said the Celica indicated it was turning right into Holland Road but he believed when Mr Uddin saw his lights he turned off the indicator and turned back to the left to let him pass.
He said the Celica then pulled out to the right in front of him.
Nervous breakdown
The cars crashed and PC Smith's Astra mounted the kerb, hitting and killing Algerians Mr Lecheheb, 35, and Mr Melal, 27, who had been out for a meal with two friends.
The police car crashed through garden walls and smashed into the front of a terraced house.
In the witness box PC Smith said he was a trained standard response driver with a clean licence, who had never had any complaints about his driving.
Since the crash he said he had been treated for a nervous breakdown, post-traumatic stress and depression.
When he received the emergency call he said he would have been driving the car along Leagrave Road at between 50 and 60 miles per hour.
On his decision to overtake the Celica, he said: "It was not dangerous at all. I would never have overtaken that vehicle had it not changed its path."
Loved ones
He told the jury: "I completely understand why I am here. I need to tell you what happened for the sake of the families. I did not drive carelessly or dangerously."
After the case PC Smith said: "I am satisfied with the outcome today and valued the opportunity to explain what happened that night, especially as I wanted the families to know the exact circumstances of how their loved ones died.
"Two young men have lost their lives and I will live with the consequences.
"Nothing I can say will ever help those families, but I do hope that now they have heard all the evidence this may in some small measure help them."
In a statement, the Assistant Chief Constable of Bedfordshire Andrew Richer said: "PC Smith is currently suspended from driving police vehicles. We will now review that position.
"In the mean time we are keeping up to date with best practice on police driver training to ensure the highest standards are attained."