Pregnant woman faces Leighton Buzzard slavery charges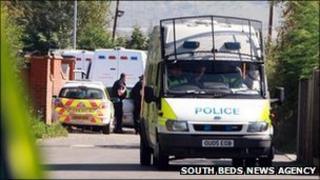 A woman has become the fifth person to face slavery charges after police raided a travellers' site near Leighton Buzzard.
Josie Connors, 30, has been charged with four offences in connection with the Green Acres site which was raided by the police early on Sunday.
Ms Connors, who is pregnant, has been bailed to appear before Luton magistrates on 22 September.
Four men were remanded in custody on Tuesday.
Brothers James (Jimmy) Connors, 23; Tommy Connors, 27, and Patrick Connors, 19, along with brother-in-law James (Big Jim) Connors, 33, were remanded in custody on Tuesday after appearing at Luton Magistrates' Court.
They are accused of enslaving four men.
Twenty-four men were found living in cramped conditions in caravans, sheds and horse boxes during the raid on Sunday.