Bedfordshire brothers cast in UK tour of Oliver!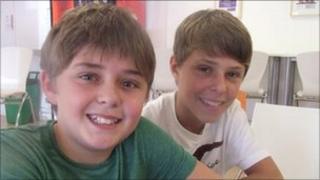 Two brothers from Bedfordshire have won roles in the forthcoming UK tour of Oliver!
Joe Potter, 14, has been cast as the Artful Dodger while his younger brother Max, 12, is in Fagin's- gang.
The two, who are from Clophill and attend Emil Dale's School of Performing Arts (EDSA) in Hitchin, beat off competition from hundreds of other children from all over the UK.
Rehearsals start in October and the boys will tour the country for nine months, starring alongside Neil Morrissey and Brian Conley.
Joe said that he was "really, really happy" to get the part of the Artful Dodger and that being part of the tour was "massive" and "crazy"
Max said he "was almost in tears I was so happy" when he found out he had been cast.
Auditions took place two months ago and shortly afterwards, Joe was cast in his "dream part" of Dodger, but both boys were devastated to discover that Max hadn't got a part in the show.
"I was probably more gutted for Max [not getting in] than I was excited for myself," said Joe.
The two were on a family holiday when they discovered that producers wanted to see Max again as they thought they may have made a mistake.
After another audition, Max was cast in Fagin's gang.
'Brilliant'
Ironically, the boys first became interested in drama after performing in a school production of Oliver! three years ago.
"I wasn't really interested in it before that but my mum thought me and Max would be quite good at it," explained Joe.
"She said 'Go for it' and if we hadn't none of this would have happened."
Following that show they did more drama at school, and decided to audition for EDSA.
This is Joe's second professional role, having been cast as Friedrich earlier this year in the UK tour of The Sound of Music.
The Oliver! tour is produced by Cameron Mackintosh and starts in Cardiff in December.
There are about three teams of child actors so it means that the boys will only spend spells away from home "on and off".
Joe said he enjoyed being away from home last time and found it hard to think of a downside.
"I missed my mum and dad and little sister and Max a bit, but you make so many friends who I've kept in touch with, it's brilliant," he said.
For Max, this will be his first theatre tour.
"It's my first time away from home on a show but I think I can handle it," he said.
Both brothers said they would like to pursue acting as a career but were aware of the pitfalls.
"My mum always says acting is the most unemployed job in the world but you get big bucks [when you are working] but I don't do it for the money," explained Joe.
"You've always got to have a backup, something to fall back on but I'm not completely sure what it is yet."