Milton Keynes Council reverse increase in parking costs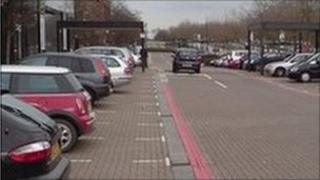 Nearly 700 premium rate parking spaces in the centre of Milton Keynes have been changed back to standard rate.
In January 2011, the then Liberal Democrat controlled Milton Keynes Council quadrupled the price of nearly 1,000 standard rate bays.
The new Conservative-controlled council has now implemented its promise to reverse the decision, following the local elections in May.
Parking now costs 30p per hour instead of the premium rate of £1.20 per hour.
From 19 September, 690 spaces have been converted from premium rate (red) to standard rate (purple) parking and 169 spaces, outside Xscape and the Food Hall, have returned to being free for two hours (green).
When the original decision to increase the numbers of premium rate spaces was made, Vanessa McPake, the Liberal Democrat councillor responsible for transport said of the changes: "What we have done is to ensure that Milton Keynes still has lower parking charges than any of the surrounding areas, so it will still be cheaper than Bedford, Northampton, Luton or Aylesbury."
Under occupied
However, a statement from Milton Keynes Council said: "It has been identified that premium bays in certain areas are notably under occupied to the point of being effectively unused".
The reversion to standard rate "centred on maximising the availability of parking to continue to support the economic vitality of the city centre.
"This will focus on the conversion of under-occupied premium spaces and offering lower cost parking in key areas."
Chairman of the Milton Keynes lobby group Urban Eden, Theo Chalmers, said it would like the council to go further.
"There were originally 3,872 green spaces which became purple, and 981 new red ones. Today they've made 859 changes," he said.
"It's a start and they've done it because they realised that the spaces weren't being used as red spaces and people were being frightened away by the cost so we're hopeful that maybe they might do some more.
"I think what we need is some more of the original green spaces that were free."