Thames Valley Police present award to Aylesbury boy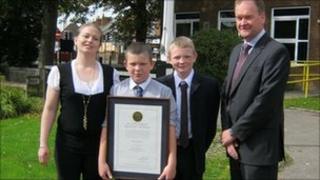 An 11-year-old boy from Aylesbury has received a national police public bravery award after helping police secure the conviction of a murderer.
Rhys Carthy was aged nine when he witnessed the murder of Sally Garwood by Robert Cusworth.
He knew Cusworth and was able to provide vital evidence to the Thames Valley Police investigation.
The award was presented by local area commander for Aylesbury Vale, Supt George Wrigley.
Rhys had been playing in Quarrenden Fields in Aylesbury, when he witnessed the murder but initially he kept this to himself.
However, after seeing the news about the crime on the television, he was prompted to tell his mother.
This national award, signed by Sir Hugh Orde, President of the Association of Police Officers, acknowledges Rhys's bravery for speaking out.
Supt Wrigley said: "Rhys was courageous in coming forward and working with the investigating officers.
"His evidence was critical in bringing Robert Cusworth to justice. He is a good example to young people and it was a pleasure to present Rhys with the award and meet his family."
Cusworth was convicted of murder and sent to prison for a minimum term of 22 years.