Reward increased for Beadlow business fire information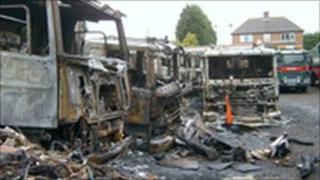 A man whose business was partly destroyed in an arson attack which caused damage put at £1.5m has increased his reward for information.
Up to 18 lorries and a tank of diesel were burnt out in the fire at Thomas Bros Excavations (Luton) Ltd, Shefford Road, Beadlow, Bedfordshire, on 30 May.
At the time Andrew Burton offered a £10,000 reward, but now has more than doubled the money on offer to £25,000.
He hopes a new witness will come forward and help identify the culprit.
He said: "It is not a hollow gesture. I will give this money to anyone meeting the police criteria for relevant information."
He added that the business was back to full strength, having replaced and repaired vehicles.
Det Con Amanda Durrant, from Bedfordshire Police, said the investigation into the fire, which was being treated as arson, was continuing.