Waterways ministry calls for more volunteer chaplains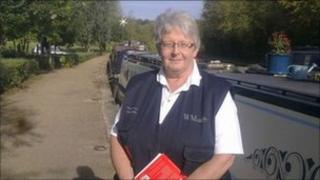 The Salvation Army is looking for more volunteers to join the chaplaincy team serving people who live and work on the region's waterways.
The waterways ministry was stopped in the 1960s but is being revived as part of a Workplace Ministries project in the Diocese of St Albans.
Senior Waterways Chaplain, Captain Jenny Dibsdall from Eaton Bray, says more chaplains are needed to walk the tow paths of the Grand Union Canal and along some of the area's rivers.
The Salvation Army waterways ministry started in the Fenny Stratford area in 1908, praying with and talking to bargemen and their families in their cabins.
During the 1950s and 1960s, Majors Frederick and Ivy Fielding spent 14 years as chaplains but there had been no chaplaincy service since 1964 - when Major Fred was called for service in Libya - until January 2011 when Captain Jenny was appointed.
Pastoral support
The service provides pastoral and practical support for boat dwellers in need, such as food, clothing, water, benefits advice and a listening ear.
Captain Jenny said that while she had discovered one or two other waterways chaplains across the country, there was no purpose built team which is what the diocese is trying to organise, but one of the biggest challenges is the size of the area which needs them.
"We're trying to cover the whole of the area from Braunston down to Rickmansworth for the Grand Union, and then the Lee and the Stort," she said.
"We've got teams now working on the Stort. We're trying to build teams on the Lee.
We came across a lovely vicar in Waltham Abbey and discovered that she was actually walking some of the Lee Valley, so it's growing on its own volition."
However, there are certain areas where help is still needed and no one has yet been found to cover Milton Keynes or Hemel Hempstead.
"What we need are people to become involved, to adopt a stretch of tow path or river and commit to walking at least once a week so that they build up relationships with the regular walkers and boaters," she said.
Special training
Volunteer chaplains are provided with advice and training and a special jacket identifying them as a waterways chaplain.
They are then shown their chosen section of tow path and in pairs are encouraged to keep in touch with the boating community by email, text, Facebook and Twitter to keep abreast of issues on the rivers and canals.
"Many boaters are now our eyes and ears on the waterways and are keen to let us know if they think someone needs our support," added Jenny.
Those who use the service feel that their help and support is vital.
Ann lives on a boat moored temporarily in Milton Keynes and recently lost her partner.
"It's just nice to have someone who's not so close who you can talk to and comes with an outside perspective," she said.
For further information please either call Jenny on 07717 813682 or email on jenny.dibsdall@salvationarmy.org.uk