Bedfordshire slavery probe: Man remanded in custody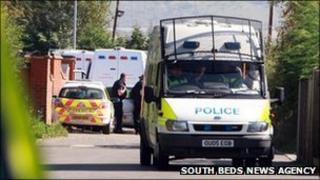 A 51-year-old man from Bedfordshire, charged with slavery offences following a police raid at a travellers' site, has been remanded in custody.
Tommy Connors Senior, of Green Acre Caravan Park, Great Billington, appeared at Luton Magistrates' Court.
He was accused of 11 offences of conspiracy to place people in servitude or forced labour.
He is due to appear again at Luton Crown Court on 5 December with several other members of an extended family.
They include Josie Connors, 30, bailed by magistrates last month on charges of conspiracy to commit offences of holding people in servitude and requiring people to perform forced labour.
Others facing similar charges are Johnny Connors, 30, James (Jimmy) Connors, 23, Tommy Connors, 27 and Patrick Connors, 19.
Their brother-in-law, James (Big Jim) Connors, 33, was also remanded in custody charged with slavery offences.
The charges relate to alleged victims who were removed from the Green Acre site near Leighton Buzzard, following a police raid on 11 September.