Biggleswade coin shop robber John Gladwin jailed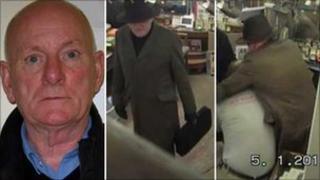 A 72-year-old described by a judge as an "old lag" has been jailed for taking £74,000 worth of stock from an antique coin shop in Bedfordshire.
John Gladwin posed as a smartly dressed customer at the Biggleswade store in January, then with a younger accomplice tied up the owner's hands and feet.
Luton Crown Court heard he helped himself to coins, gold and jewellery.
Gladwin, of Stubbs Lane, Lower Kingswood, Surrey, admitted robbery and was jailed for four years.
The court heard he owed money to a loan shark after borrowing £10,000 and had previously visited the store on a reconnaissance mission, while in a wheelchair.
Natalie Carter, prosecuting, said Gladwin asked owner David Allen, 60, if he could see a rare Victorian sovereign at Cambridge Coins and Jewellery in High Street, Biggleswade.
Left phone behind
Gladwin called an accomplice on his mobile and both men grabbed Mr Allen and bundled him into the shop's office.
He had his feet and hands bound and his fleece pulled over his head, the court heard.
CTTV footage played in court showed Gladwin selecting trays of coins and jewellery and placing them in a holdall bag.
After the men left, Mr Allen was able to partially free himself and hit the panic button, the court heard.
Gladwin left his mobile phone in the shop and was arrested at his home. Officers found books on coins, two wheelchairs and a special magnifying glass to study coins.
Gladwin, who has not revealed his accomplice to police, began his criminal career aged 12 and had been jailed in the 1950s for "housebreaking", the court heard.
Scott Ivill, defending, said he was remorseful for what he had done.
Judge Richard Foster told Gladwin: "You are an old lag, who has not changed his ways.
"You must face a substantial custodial sentence for what you have done."
As Gladwin left the dock, he said: "I am really sorry."