Cranfield University jet engine test equipment stolen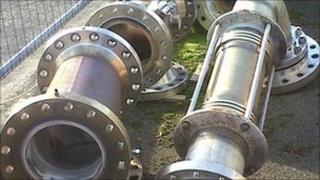 Metal thieves have taken a large jet engine test rig from a university in Bedfordshire in broad daylight.
The twelve stainless steel components, used to test high temperatures and air pressures, were stolen from Cranfield University on Monday morning.
Police are appealing to the public and scrap metal dealerships to keep their eyes open for the equipment which will cost approximately £80,000 to replace.
A large vehicle would have been needed to take the rig away, police said.
PC Rob Mossford said: "This equipment was taken in broad daylight and the thieves would have needed a large vehicle.
"It is possible that members of the public and motorists in the area may have seen the offenders but not realised what they were up to.
"We also know that a member of the university staff saw three men in a red van at approximately 10:30 BST and I would ask that these men come forward as they could have vital information about the offenders."