Olney elderly care nurse role 'under threat'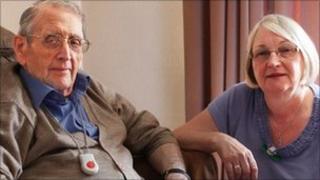 Campaigners fighting to save a specialist nursing role in Buckinghamshire say it is under threat if funding cannot be found.
They said the role of specialist support nurse for the elderly may disappear from Olney because the town council could no longer fund it.
But mayor Stephen Clarke said "no such decision" had been made at this stage".
The service lost NHS funding in January 2011, but the town council stepped in to put up the money until April 2012.
The specialist service is offered to patients of the Cobbs Garden Surgery, who have an "unmet need", which means that they are not under the care of any other services.
Retired district nurse Sue Levitt has been in the role for more two years.
"I visit people who are isolated or vulnerable and I liaise with relatives and other services to co-ordinate care," she said.
'Budget priorities'
Dr David Bartlett, from the surgery, said the service was needed because of Olney's high percentage of over-65s, which stands at 17.5% compared to about 11% in Milton Keynes.
"This additional service enables [older people] to be connected with other services and feel better about themselves and less likely to become ill," he said.
After the service lost NHS funding, the Friends of the Cobbs Garden Surgery made an application to the town council, which said it would provide funding until April 2012.
However, Trevor Yorke, from the Friends, said they were given the extra funding on the understanding they would not apply again in subsequent years.
He said that meant they were needing to "look elsewhere" for the money.
Mr Clark said Olney Town Council had "yet to finalise budget priorities for the next financial year".
He added: "The support nurse based at Cobbs Garden Surgery is one of a number of community initiatives that Olney Town Council has been able to support during the past year. It will be the responsibility of the council to decide which, if any, of these initiatives it is able to support in the future.
"At this stage I am not aware that there has been any approach from Cobbs Garden Surgery to the town council to establish whether it is able to continue supporting this post."