Biddenham church calls for more bellringers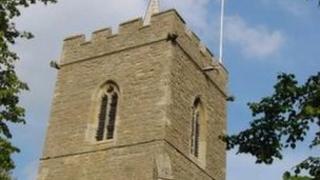 Bellringers at a Bedfordshire church have organised a recruitment drive to stop the tradition from dying out in the village.
St James Church in Biddenham has stood for more than 900 years and its bell tower has been calling people to service for 400 years.
However, unless new bellringers can be found, the bells could fall silent.
Tower Captain Bryan Toyn said he hoped the campaign would bring in three or four more ringers.
Sunday services
"We should have enough to ring at least half a dozen of the bells then," he said.
St James has eight bells, with six dating from 1787 and two from 1986.
They are rung before Sunday services and at weddings by the bell ringing team, which currently numbers around eight.
More ringers means that the current team would not have to turn out for every ring, and they would also like to attract a range of ages because at the moment the youngest member is over 60.
"St Andrews, the modern church in town, has got a very active group of young people with 18 or more ringers. They can ring three times on Sunday when they're required and each time the team is different," explained Mr Toyn.
A leaflet drop followed by a meeting in the village has attracted at least six new people, who will now need to decide whether to commit to learning the art.
"To learn to ring one bell takes a few weeks if you do half an hour a week, then you have to ring with other bells," said Mr Toyn. "But it's not as difficult as it looks. There's a very unusual hand movement you have to get used to but most people get the hang of it."
He also said that he felt the decline in numbers of bellringers was linked to church attendances.
"A number of churches can't raise a group at all and it [the tradition] is dying as attendance at churches is dying, it's the same sort of thing.
"There are a lot of families that have no connection or interest in the church at all, there are too many distractions."