Donation brings travel relief to Bedfordshire breast cancer patients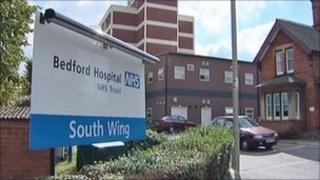 Patients can now have full breast reconstruction treatment at Bedford Hospital, thanks to a charity donation.
The Friends of Bedford Hospital have contributed more than £2,000 for a specialist machine which tattoos the areola onto the reconstructed breast.
Future patients will no longer have to travel to Stevenage and Welwyn Garden City to complete their treatment.
The monthly clinnic is set to bring relief to those already under physical and emotional strain.
Muhammad Javaid, consultant plastic and reconstructive surgeon at Bedford Hospital, said the £4,500 state-of-the-art machine completes the appearance of reconstructed breasts after mastectomy.
"The new machine means that, as well as reconstructing the breast, we can also complete the final stage of the procedure which is to tattoo the areola following reconstruction of a nipple," he said.
'More convenient'
It can provide any shade of tattoo, to blend with any skin colour and enable surgeons to create a more realistic and long-lasting effect.
In the past year, 29 patients had been given breast reconstructive surgery at Bedford Hospital but had it completed at the Lister Hospital in Stevenage or the QE2 Hospital in Welwyn Garden City.
Eight patients have been treated in the clinic since the machine was installed in September, with eight more expected in the near future.
Breast Care Specialist Nurse Rachel Bryce said: "Reconstructive surgery can do so much to restore the self-confidence of breast cancer patients and we are absolutely delighted to now be able to offer the full treatment for women at their local hospital, by the staff they know and who have been with them throughout their illness and recovery."
Yvonne, 62, was the first patient to have the procedure at the hospital.
"It's a lot more convenient because, having to go to Stevenage, you can't always get a friend or family to go with you and you're not so nervous knowing that you can come to a place you're familiar with," she said.