Aylesbury concern over prison staff batons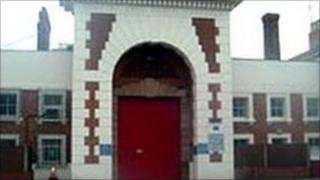 Prison officers at a young offenders institution drew their batons nearly 40 times in two years, the chief inspector of prisons has said.
Nick Hardwick said the number of violent incidents at Aylesbury painted a "troubling picture".
Governors and staff would tackle the issues, a spokesman for Aylesbury said.
Andrew Neilson, director of the Howard League for Penal Reform, said the figures suggested the institution was "out of control".
Inspectors also found inmates, who are aged 18 to 21, made weapons from furniture and utensils to carry out assaults, although the number of violent incidents appeared to be declining.
Mr Hardwick said: "Batons had been drawn by staff on nearly 40 occasions over the last two years, and although used on only a few of those occasions, this was much more than we have seen elsewhere."
Batons had been drawn 34 times in 2010 and five times this year, leading to their use three times last year and once so far in 2011, the report said.
The report on Aylesbury, which houses 437 men, said: "These incidents were not consistently scrutinised and were viewed as acceptable by most prison managers."
Inspectors also found accommodation standards were poor, cells were dirty, offenders could not have a shower every day, and there was "far too little for the young men to do".
Michael Spurr, chief executive of the National Offender Management Service, said Aylesbury had "a challenging population" but the report had acknowledged improvement in areas such as "safety, vocational training and resettlement".
"The governor and staff will now tackle the concerns raised over the use of force, staff-prisoner relationships and purposeful activity," he added.